Wisconsin Montessori Creative Music Experience
Music is the Heartbeat of the Spirit
Like the Native American Indian drumbeat, music pulsates through the veins of people through the centuries across all nations and across all cultures. Music is the language of the universe that all creatures can understand.
Rhythm – the drip of a raindrop, the crash of a waterfall, the conifer branches swaying in the wind, the tingle of the aspen leaves, the heavy footfall of the bear; the gentle breath of a sleeping baby; Harmony – the song of the crickets, the call of the crows, the delicate chirp of the chickadees, the nighttime howling of the wolves in the forest distance, the gurgling and babbling of a brook, the purring of kittens…
Life is rhythm and harmony; music, like love, is all around us.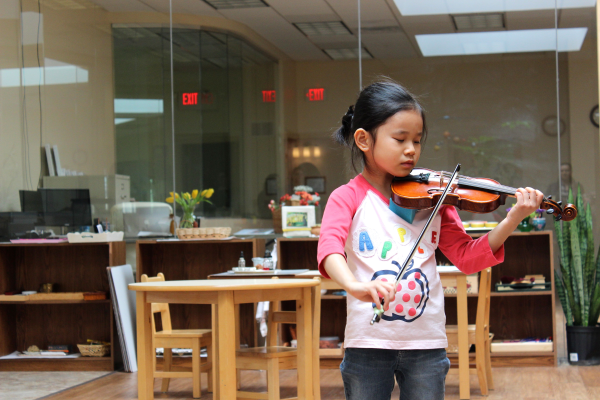 At MorningStar Montessori Cedarburg, we listen. We listen to the music of the earth - we lay down in the freshness of the field and listen to the wind in the grasses, flies and bees buzzing, flowers fluttering, children playing in the distance and all the music around us.
We listen to the piano,
We listen to the guitar,
We listen to the beautiful ring of the Montessori bells
We listen to CDs of many styles of music – Native American, classical, ragtime, opera, folk songs and all kinds of music from around the world.
We play instruments – striking and matching the beautiful Montessori bells, training our ears while carefully listening for differences in tone and pitch - playing the scales, learning the notes, and playing simple songs; we play the piano, can we play what we played on the bells? We play hand-made instruments from all around the world – we feel them, listen to them, learn about them, play them gently and march all around the school with them. We play and echo rhythms with them.
We sing, we clap, we sing silently with sign language, and we sing some more. We sing softly, loudly, and in-between – we sing songs of many languages, songs of continents, songs of planets, songs of faith, songs of fun, songs with movement and more.
We really love to sing!
We dance! Irish dance, Native American dance, ballet, the Viennese waltz, and most times – we just move to the music; feel the rhythm move us.
We really love to dance!
We visit the children's First Stage Theater to see musicals, we see the professional Milwaukee Ballet dance The Nutcracker, and we have guest performers, such as Mr. Larry Theiss - singer/songwriter/guitarist, visit us!
Our own children sing and play their instruments for us!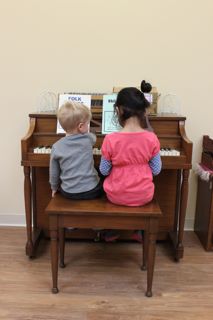 Like all of nature,
We really love to sing, play and dance to music!